Our Landscaping Cheltenham Services
Cotswold Paving and Landscaping provides comprehensive services through our in-house professional landscapers, with end-to-end project management to ensure your patios, decking, lawns, planting and fencing are all designed with your home and family in mind.
We provide advice and guidance with thorough consultations to discuss your ideas and the key areas of your garden that you use most often, providing design and construction services for all outdoor areas, including:
Garden patio design and decking.

Fencing and walls.

Driveways and paving.

Planting and lawn installation.
Our aim is to ensure every project is completed on time and exceeds your expectations. We offer clients across Cheltenham and Gloucestershire support throughout, with a competitive price for all landscaping services.
We are always happy to advise on specific objectives, such as creating sustainable garden landscapes or repurposing smaller compact gardens to augment your outdoor space.
Hiring Expert Landscape Gardeners in Cheltenham
As seasoned landscape gardeners, we endeavour to provide all the landscaping services required through one team of accomplished professional landscapers, project managers and design experts, ensuring you reach completion faster, make informed choices about your garden layout and features, and have a garden that is suited to the maintenance you wish to invest.
Every home is different, and our Cheltenham team can design landscapes that maximise natural light, make your garden feel private and secluded, or open up overgrown spaces to make them inviting, with the right ambience for al fresco brunches and summer evening BBQs.
We recognise the need to balance cost with quality and deliver a vast array of soft and hard landscaping services, reducing the need to rely on multiple tradespeople and dispatching our landscape gardeners to oversee every step, from laying the foundations for new garden walls to erecting streamlined fencing and choosing the perfect planting scheme.
Many homes appreciate significantly in value with a beautifully landscaped garden. We have the capacity and knowledge to manage landscaping projects in Gloucestershire of every size, from refreshing tired driveways and replacing front aspects to full garden transformations.
Optimising Your Garden Design and Functionality
Professional landscapers blend aesthetics with functionality to build hard-working gardens that will remain in superb condition for years to come. The best landscape design for your home will depend on multiple variables, such as:
The soil quality and condition in your Cheltenham garden.

Existing hard landscaping, such as a large patio, fencing or walls.

The materials and look you'd like your space to have.

The flowers, scents and trees you wish us to supply.
Whether your rear garden is a blank canvas in need of some style and flair, or you have heritage trees and shrubs that you'd like to protect and incorporate into your revamped garden design; we can recommend the best solutions.
A landscape gardener draws on your preferences and the period of your property to create ideas, mixing colour, texture and materials while thinking about how you want to use the garden space. For example, an elegant raised deck could provide a perfect spot for dining and relaxation, bracketed by gentle climbing plants and patio pots to soften the edges of modern slate and stone.
Other projects are all about accessibility, with smooth, even paths, water features that provide a sensory sound, or installing artificial grass for a tough lawn area for kids' games and sports year-round while separating these practical spaces from areas for entertaining.
Working With Landscape Gardeners in Cheltenham and Gloucestershire
Many clients we meet with have never collaborated with a landscape gardener before and welcome guidance about what to expect from the design and construction process. Our consultations begin by meeting to discuss how your garden looks and performs and establish your goals and the outcomes you want to achieve.
That might be, for example, to replenish poor soil quality common in newly built properties, to clear an overgrown garden and install new pathways, paving, planting areas and water features, or to make your garden safe and child-friendly for pets and a growing family.
From there, we provide designs, thoughts and suggestions, using material samples and past projects to showcase the finished effect. We will schedule a convenient time to begin work only once you are happy with our plans and ready to proceed, and provide regular updates on progress to keep you abreast of the anticipated completion date.
Awards
We are proud to have won many awards over the past 20 years, including:
Bradstone National Award Winners 2019/2020 In two categories:
Best Porcelain Patio transformation over 60 square meters
Best Patio using concrete paving slabs
We have over 20 awards, find out more
How We Guarantee Fantastic Job Outcomes
As a family-run team of landscape gardeners, we are proud to have developed an outstanding reputation for excellent service, attention to detail and top-quality landscaping work, completing every job to the high standard we set for ourselves.
Potential clients in Cheltenham and the broader Gloucestershire area are welcome to read reviews and testimonials from previous customers or to contact our helpful design and construction team to schedule an obligation-free chat to discuss what your dream garden would look and feel like.
All the materials, equipment, plants, patio decking and soft landscaping items we supply are sourced from our established network of quality manufacturers, and we offer landscaping services for both domestic gardens and larger-scope commercial projects.
Please get in touch anytime for access to reviews and information about past projects as inspiration or to explore our breadth of landscaping knowledge collated over 28 years of expertise. Alternatively, you are welcome to visit our portfolio for a glimpse into the talent our landscape gardeners offer.
Cheltenham Landscaping Quote

Simply enter some basic details to start the process to get your Cheltenham landscaping quote.
Project 1 – Patio and Landscaping
Example of a piece of patio and landscaping work carried out for a client- from starting point design to installation.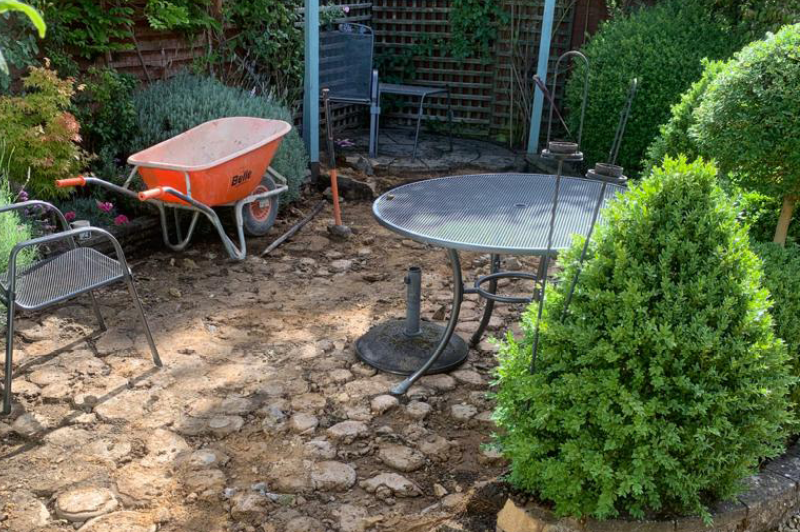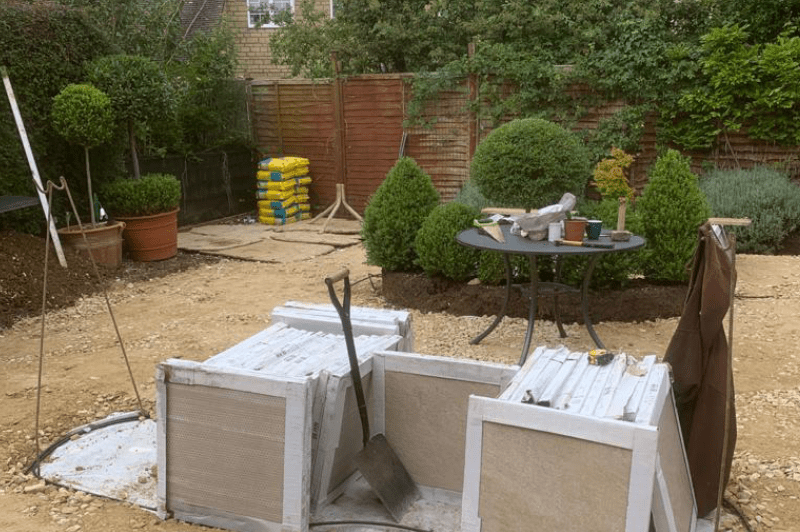 Project 2 – Design and Installation
Full design and installation work for another client really changing the look of the garden, patio and landscape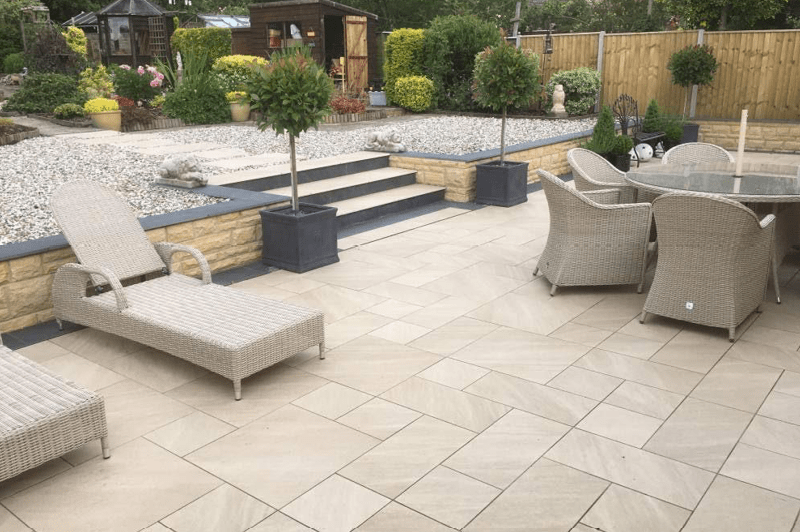 Project  – Clearance, Landscaping and Patio installation
Example of a clearance of an unused area turned into a landscaped garden and patio area
Contact our team today:
Get in touch with our team today for chat about what you might be looking at, to ask any questions or to get a quote.
Please use our contact form on this page, or contact our team on:
Email Cotswold Paving and Landscaping at:
sales@cotswoldpavingandlandscaping.co.uk
Telephone
Landline 01452 722 923
Mobile 07929 186 704
Mobile 07753 162 679