High-Quality Landscaping Services From the Oxford Garden Design Experts

Many customers have established expectations of how their garden will look, perform and bloom throughout each season and may look for specific attributes such as greenery that requires low maintenance and is ideally suited to the soil type in their Oxford garden.
However, others find the input and capabilities of the best landscape gardeners invaluable, providing independent recommendations with helpful, friendly advice about the types of landscaping services that will work seamlessly with the appearance of their house and, for example, where an artificial lawn section may be optimal to provide a longstanding, tough outdoor play space for sports equipment.
Balancing Plants and Flowers With Practical Oxford Landscaping Services
The key aim in any landscape project is to create the right mixture of nature and functionality so that the garden design is completed to meet your practical needs while being beautiful, charming and with an array of rich colours and scents so well achieved with intelligent planting, lawns and shrubs.
Cotswold Paving and Landscaping has built a business reputation for excellence and wants all clients to have a garden they can take pride in but that is also suited to their requirements, with landscaping features often including:
Fencing to delineate boundaries, with a new fence a great way to build safe place spaces or borders around decking and planting.

Pergolas, patios and decking, establishing tidy, minimal maintenance zones that can mean the year-round usability of your garden is transformed.

Durable paving for pathways, pool surrounds, drives and entrance ways to reduce footfall on your lawns.

Garden walls, boundary fencing, flower bed walls and retaining walls for safety and privacy.
The first step to deciding which features will improve the quality of your garden and construct the dream outdoor area you have in mind is to contact our team of professional landscape gardeners in Oxford to arrange a convenient time for a zero-obligation consultation.
Adding Value to Your Oxford Home With Our Professional Landscape Gardeners
Landscaping can be a great way to efficiently improve the quality and appeal of your garden spaces, with landscape gardens a key selling point, whether you wish to enhance your property value or intend to create gardens that will make your home easier to sell in the future.
With a broad reach across Oxfordshire and as far west as Chipping Norton, Cotswold Paving and Landscaping works with homeowners with every level of budget to recommend garden design, styling and fencing that will augment your garden while commanding minimal mess and maintenance.
Our job as your landscape gardener is to understand the deliverables of each job or longer-term project and to adapt your planting schemes, patios, paving and decking or other technological features such as outdoor lighting, sensors and weatherproof treatments to complement your existing home.
An accomplished landscape gardener can offer ideas, project management and sourcing through our multi-skilled team, ensuring you hire one business and deal with a single point of contact throughout for peace of mind and quality control.
Please get in contact at any time if you would like more information about the costs of hiring landscape gardeners in Oxford or for access to more in-depth reviews about our services.
Developing Gardens of Distinction With Oxford Landscape Gardeners
Cotswold Paving and Landscaping is a family-run commercial company with expertise within grounds maintenance, landscaping and the scope of landscaping services, and our outstanding team of landscaping specialists attract fantastic reviews, which testify to the skill, design acumen and creative ideas they contribute to every gardening landscape job.
Whether you have a compact, small garden space and wish to maximise the natural light, add a touch of design flair and personality and develop tasteful fencing and backdrops, or have broader gardens that require ongoing garden maintenance, we can help.
Our average rating throughout all client reviews is excellent, and we are always happy to discuss the size and type of building and budget you would like to design a garden space around and to offer our thoughts about the right planting and features that will bring your garden to life.
Full Scope Oxford Landscaping Services for Business and Private Property Owners
We work with a vast array of customers, from commercial business spaces wishing to ensure their outdoor areas have the proper maintenance and design to exceed their client expectations, to landlords upgrading the gardens in their portfolio properties and private clients looking to hire a highly skilled team of landscape gardeners.
Projects vary from one-off garden makeovers and transformations to ongoing maintenance, always managed by our proficient landscape gardeners, ensuring your gardening is in trusted, competent hands and continues to provide soft lawns, beautiful flowers and engaging dining spaces.
Our Aim for Oxford
Our aim is always to leave our Oxford landscaping clients delighted and impressed once each job is completed, with a commitment to sustainable materials, local sourcing, amazing garden aesthetics, and delivering bespoke outdoor spaces built for you and your family.
We invite all prospective Oxford clients to browse our previous customer testimonials and reviews and our gallery of past project outcomes to inspire the process, whether you'd like to create something unique and tranquil, a stunning entertaining space, or gardens, lawns and plants that are simple to maintain.
Awards
We are proud to have won many awards over the past 20 years, including:
Bradstone National Award Winners 2019/2020 In two categories:
Best Porcelain Patio transformation over 60 square meters
Best Patio using concrete paving slabs
We have over 20 awards, find out more
Quality landscaping throughout Oxfordshire
All of our paving in Oxfordshire includes a 5 year installation and 10 years product guarantees. This is because we are trained professionals in Paving and Landscaping and only use the  highest quality products, we are proud of our Award Winning work and to be recommended installers for Marshalls, Bradstone and Natural Paving.

Oxford Landscaping Quote

Simply enter some basic details to start the process to get your Oxford landscaping quote.
Project 1 – Patio and Landscaping
Example of a piece of patio and landscaping work carried out for a client- from starting point design to installation.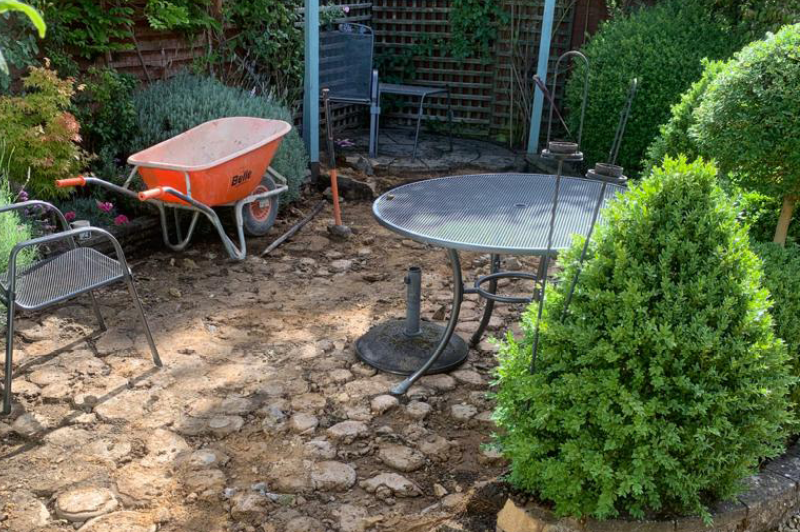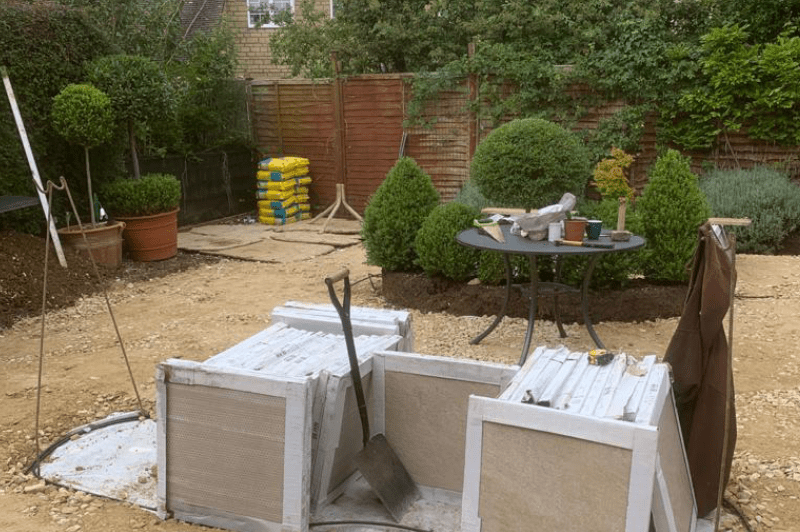 Project 2 – Design and Installation
Full design and installation work for another client really changing the look of the garden, patio and landscape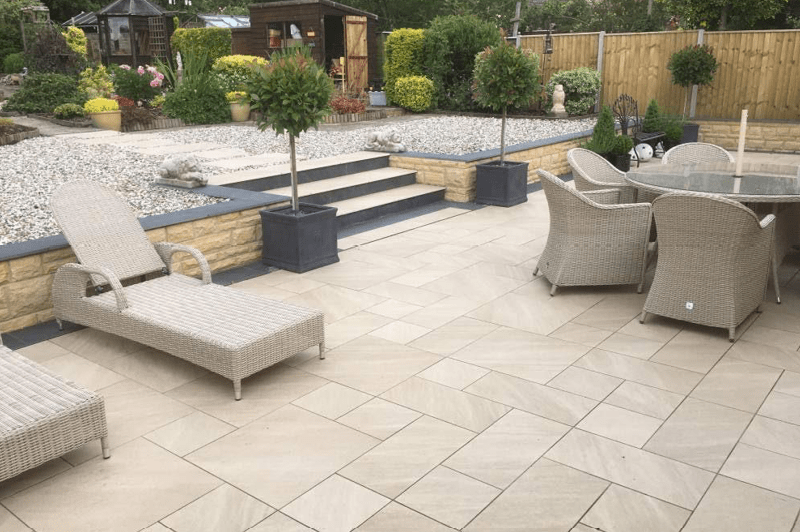 Project  – Clearance, Landscaping and Patio installation
Example of a clearance of an unused area turned into a landscaped garden and patio area
Contact our team today:
Get in touch with our team today for chat about what you might be looking at, to ask any questions or to get a quote.
Please use our contact form on this page, or contact our team on:
Email Cotswold Paving and Landscaping at:
sales@cotswoldpavingandlandscaping.co.uk
Telephone
Landline 01452 722 923
Mobile 07929 186 704
Mobile 07753 162 679