High-Quality Landscape Gardeners in Swindon
Many properties in and around Swindon are of relatively new construction, which commonly means gardens lack style or have mud and poor drainage that require landscaping upgrades that consider the soil quality, exposure to natural sunlight and how you use your garden.
Cotswold Paving and Landscaping is passionate about the versatility and aesthetics we can achieve, introducing sustainable planting, pathways, design elements and turfing that add value to your property and increase the year-round usability of beautiful gardens and lawns.
The ideal garden should be equally functional and attractive, and our in-house landscape gardeners can incorporate all the features and visual effects you wish to achieve, including garden walls and borders, decking for entertaining, and synthetic and natural grasses perfectly suited to your garden environment.
Our Swindon Landscaping Designs
Garden design should always be unique to you, and we offer initial consultations with our best landscape gardeners where we can get to grips with everything you love about your garden – and what you don't. For example, we'll explore the following:
How you use your garden, and where areas can be delineated for water features, kids' sport and play zones, bright, colourful planting, and seating or dining.

Which aspects of your existing landscaping do you wish to preserve, and where can we reposition trees, plants, shrubs or decks to maximise airflow and sunlight?

Your needs in terms of garden maintenance, with some homeowners looking to develop herb gardens, rockeries and veg patches they can tend to, and others preferring easy-care and low-maintenance gardens that require little effort to keep in pristine condition.
We can arrange a helpful consultation at your convenience, either at your Swindon property to allow our landscape gardeners to walk around your garden or remotely for an initial chat about your objectives.
Customised Decking, Water Features and Garden Walls
Decking and patios or a modern pergola are great ways to develop your own bespoke space, reducing foot traffic on the lawn and capitalising on corners of your garden that act as natural sun traps, or provide a fantastic setting for summer BBQs, al fresco brunches and relishing a morning cup of coffee.
Cotswold Paving and Landscaping offers outstanding quality decks, built to last, and with your choice of timber, weatherproofing treatments, design elements or finishes, complementing the exterior of your property and bringing clean lines to offset wild planting and lawns.
Other construction services include:
Garden walls to separate ponds, planting, flowerbeds and decks.

Retaining walls to provide safety and balance.

Boundary walls for privacy and security.
We take great pride in our reputation for exceptional customer service and ensure every garden wall, deck or patio space we design and construct meets your specifications and works seamlessly within your outdoor space.
Adding a water feature, gently tricking fountain, waterfall focal points, or fishkeeping pond can also bring a garden to life, with options such as modern and contemporary free-standing features, traditional natural stone and slate models, or a wildlife pond to invite frogs, birds and other micro species to benefit your flowers and the local environment.
Turfing and Planting Your Garden Space
There are countless ways to use strategic planting and turfing to add splashes of colour, scent and texture to any Swindon garden, with precision turfing that ensures the grasses we select will be ideally suited to your soil acidity and provide a green, bright and durable lawn that is soft underfoot and resistant to weed growth.
Planting schemes can vary greatly, from spring-flowering blooms to evergreen shrubs, delicately scented flowers such as jasmine and honeysuckle, or vibrant ferns and hedging to add depth to your back garden aesthetic while screening aspects of your property from passers-by.
As with all paving, landscaping and decking provided by Cotswold Paving and Landscaping, our landscape gardeners recommend turfing and planting that matches your dream garden design, adapting our suggested planting to your requirements and expectations.
An artificial lawn is an alternative solution, with pet-friendly options that add safety to children's play areas or inject a feeling of the outdoors around roof terraces, balconies, and swimming pool surrounds.
Our Swindon-Based Block Paving Services
The practical functions of outdoor spaces are just as important as the quality and longevity of your garden, and block paving is a hugely popular option providing solid, sustainable driveways with a diverse range of stones, brickwork, colours and placements to make the best use of the available outdoor areas.
We provide block paving expertise and offer a full design, supply and installation service, with optional accessories to add the finishing touch to your newly installed driveway, such as lighting, introducing usability, enhanced security and a high-quality appearance to the exterior of your home.
Other options, such as recessed drain covers, conceal practical drainage while preserving the performance of your block paved driveway, managing rainfall and preventing surface water accumulation to keep your block paving in excellent shape.
All our driveway and block paving engineers are trained in Sustainable Urban Drainage Systems (SUDS) standards to provide compliant, efficient and up-to-date advice following all local planning requirements.
Why Choose Cotswold Paving as Your Landscape Gardeners in Swindon
As a family-run business with decades of experience, our landscape gardeners work with clients, homeowners and landlords, providing property services across Swindon and Wiltshire.
We deliver premium solutions across the scope of garden renovations and redesigns, from block paving to turfing, landscaping design to water feature installation, and planting schemes to garden wall construction.
Our quality materials, products and components are sourced from respected UK brands. As a sector-leading contractor with manufacturer approval, we offer a tailored service, ensuring every client has the advice and guidance to transform their garden into a special place that fits seamlessly into their property and lifestyle.
Landscaping Services Swindon
Our family run business has a combined experience of 28 years and has been providing first class Paving and Landscaping solutions to our clients throughout the Cotswolds, Gloucestershire and surrounding counties.
Using top quality products from Marshalls, Bradstone and Natural Paving, for whom we are approved contractors, and other leading paving manufacturers means that the finished project, whether it be traditional or contemporary, will suit your home and lifestyle perfectly
Awards
We are proud to have won many awards over the past 20 years, including:
Bradstone National Award Winners 2019/2020 In two categories:
Best Porcelain Patio transformation over 60 square meters
Best Patio using concrete paving slabs
We have over 20 awards, find out more
Comprehensive Garden Design and Makeovers in Swindon
All of our work includes a 5 year installation and 10 years product guarantees. This is because we are trained professionals in Paving and Landscaping and only use the  highest quality products, we are proud of our Award Winning work and to be recommended installers for Marshalls, Bradstone and Natural Paving.
Swindon Landscaping Quote

Simply enter some basic details to start the process to get your Swindon landscaping quote.
Project 1 – Patio and Landscaping
Example of a piece of patio and landscaping work carried out for a client- from starting point design to installation.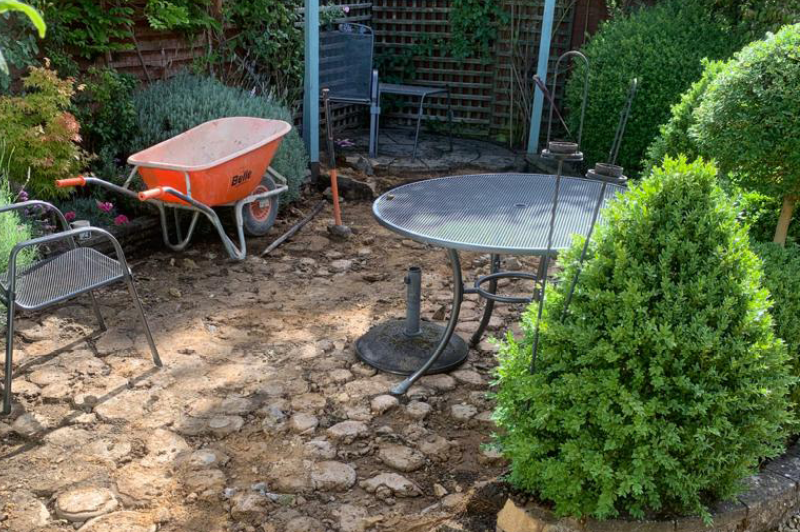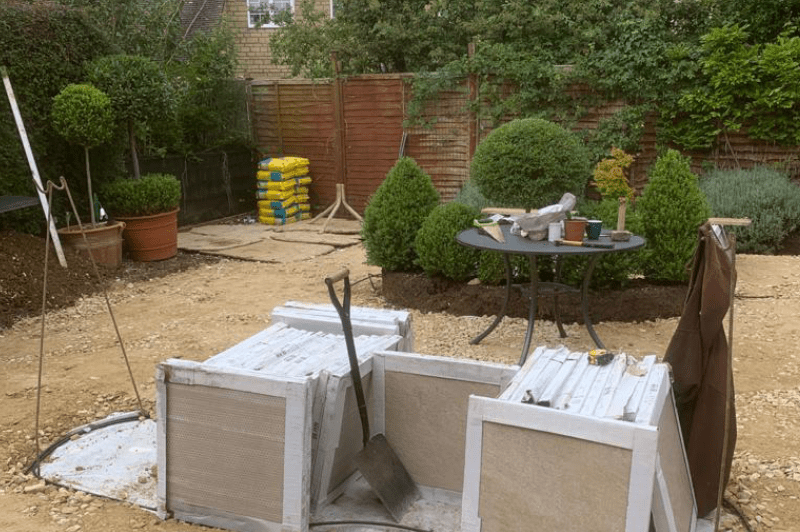 Project 2 – Design and Installation
Full design and installation work for another client really changing the look of the garden, patio and landscape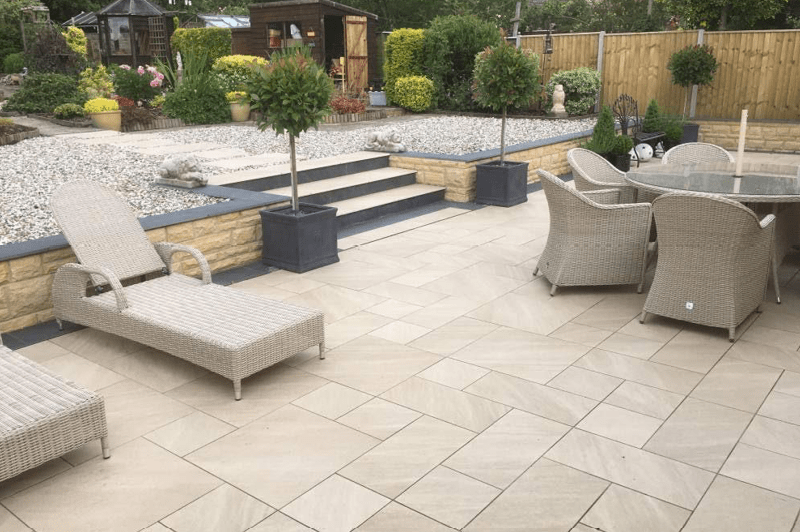 Project  – Clearance, Landscaping and Patio installation
Example of a clearance of an unused area turned into a landscaped garden and patio area
Contact our team today:
Get in touch with our team today for chat about what you might be looking at, to ask any questions or to get a quote.
Please use our contact form on this page, or contact our team on:
Email Cotswold Paving and Landscaping at:
sales@cotswoldpavingandlandscaping.co.uk
Telephone
Landline 01452 722 923
Mobile 07929 186 704
Mobile 07753 162 679